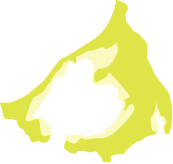 Monument
to
Habitat Compensation
Island
Islands which have
never existed
have made their ways
onto maps nonetheless

– Nicholas Hasluck


Introduction
The Project | The Publication
Habitat Island & Environs
Site Technical Information
About the Curators
Reference Images
Additional Resources
Contact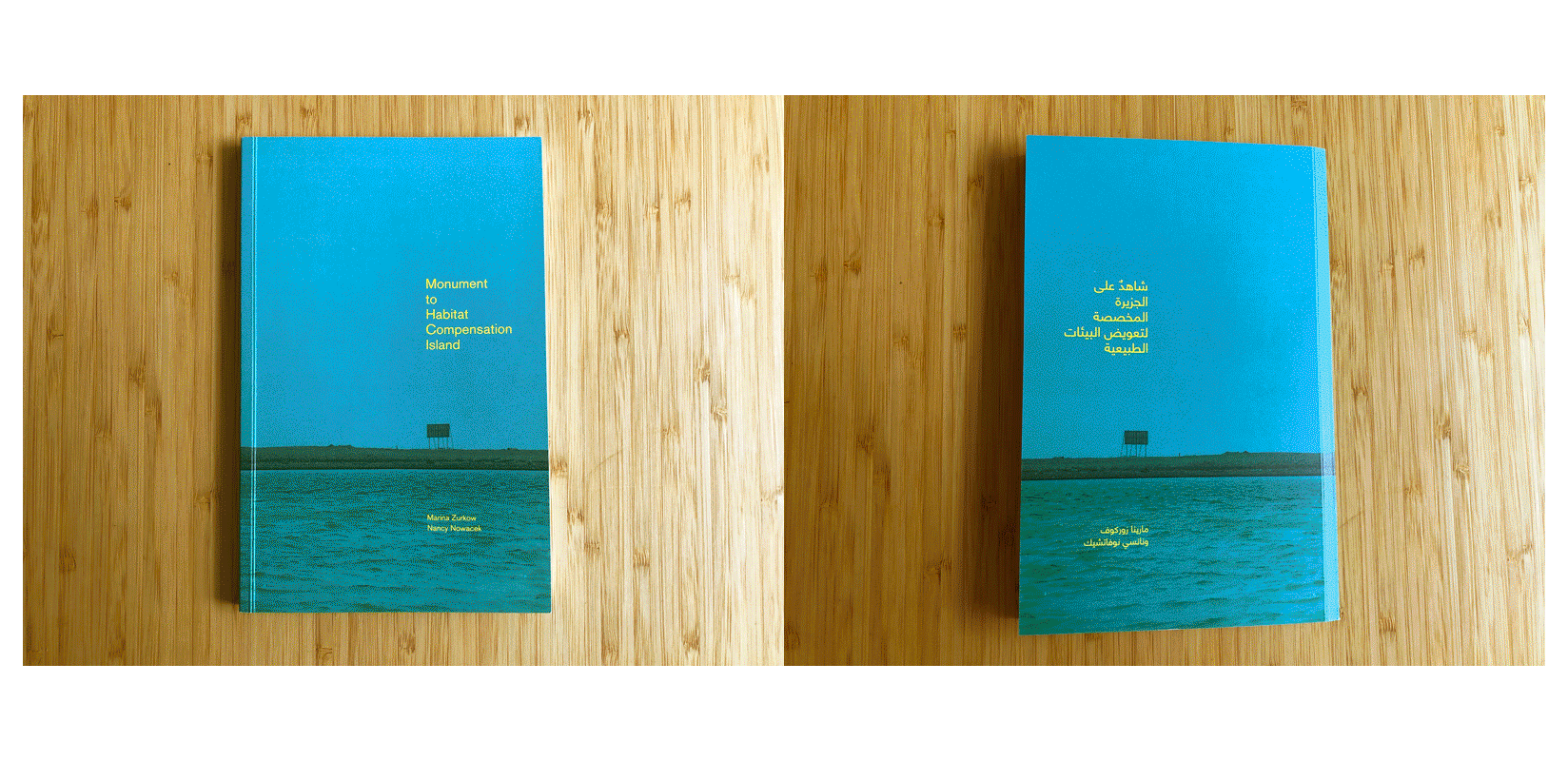 Monument to Compensation Island is a book project by Marina Zurkow and Nancy Nowacek featuring writings by Abdullah Al Saadi, Munira Al Sayegh, Nils Bubandt, Una Chaudhuri, Elaine Gan, Ayesha Hadhir, and Graham McKay. More information about the research behind the book can be found below. Copies of the book are available for $20 + shipping, and can be purchased by emailing us. The book, in PDF format, is available for free download here. Thanks to Lee Watts and Maya Allison for their support and advice, NYU Abu Dhabi for funding this research project, and Stevens Institute of Technology for helping to fund the publication of this project.

Related: video recording of the panel A Monument to All Species, moderated by Nancy Nowacek and Marina Zurkow, with presentations by Bronislaw Szerszynski, Professor of Sociology, Lancaster University; Samantha Muka, Assistant Professor of Science Technology Studies, Stevens Institute of Technology; and Una Chaudhuri, Professor of English, Drama, & Environmental Studies; Collegiate Professor; Director at Center For Experimental Humanities, NYU Tisch School of the Arts.

The concept of "island" has long been in the artistic and literary imaginary—especially a desert island.
Increasingly, human-made islands serve as a strategy of urban expansion, economic development, and material reuse. As such, these islands can be considered a living example of the colliding forces of two disparate interests: global commerce and non-human activities: A mobius strip conjoining economy to environment.
The interweaving of resource management, economic progress, and environmental care in the 21st century amidst a changing climate is one of the greatest complexities of modern life. As in so many places, this entanglement—and the strategies to address it—exists in the United Arab Emirates (UAE) through sites such as Abu Dhabi's Habitat Compensation Island, and manifests in systems and initiatives to desalinate water, cultivate global trade, protect flora and fauna, and create new approaches to sustainability in a challenging climate.
As artists committed to exploring the effects and affects of environmental issues in the Anthropocene2, Marina Zurkow and Nancy Nowacek suggest that the artificial island is a specific new form of the island imaginary, deserving critical speculation. Thus, their focus on Habitat Compensation Island.

An island is many things: a tabula rasa, an interruption in the mesh of waves, a Darwinian petri dish; it is a romantic destination, a stranding, and a paradise lost. So what then is an artificial island? What about "island" shifts when it's human-made? If an island has symbolic and real value, how then, does the symbolic agency of artificial islands differ? Can the act of constructing an island be considered the creation of a monument? A monument to what?
Monuments join distinctly different temporal and spatial registers (Here, Now, There, Then) and they are realized to imbue value—Commemorative Value, Historical Value, Age Value, Art Value, Newness Value—which might collapse a variety of temporalities, including the geologic, human, cultural, and technological.
Through initial research and their commitment to cultivating discourse around Habitat Compensation Island, Zurkow and Nowacek are asking several questions:
• How can artificial islands serve as monuments to environmental innovation and offer ecological reparations amidst the tug of human-centered interests?
• How do the "geologic programs" of artificial island-building cut through the binary divides of natural/unnatural and natural/cultural?
• What new imaginaries can artificial islands produce?
• Can they inspire more connectedness, rather than create more "wicked" systemic problems4? And when we talk about connectedness, between whom or what?

Monument to Habitat Compensation Island is a research project and publication about a tiny artificial island in the Arabian Gulf. This island, Habitat Compensation Island, was designed and built between 2009-2011, as an experiment in environmental compensation related to maritime commerce.
Made of dredge spoils, the island is nestled between the edges of the shipping channel on its southeast edge, and an oil field to the northwest. Designed in a C-shape to create a protective interior lagoon, it was intended to serve as a new habitat for local marine flora and fauna. To encourage a new community of non-humans, it was seeded with 350,000 mangroves, and a future vision that included a visitors center and educational programs interweaving through the mangrove forest.
Organized by Zurkow and Nowacek, this research project probes the history, systemic frameworks, and current state of the island. It includes exploration into several related themes: imaginary and artificial islands, time and monuments in the Anthropocene age, and the regional (cultural and historic) context of Abu Dhabi and the United Arab Emirates. A resulting publication will present this research in multiple forms (photographs, maps, drawings, essays, lists, etc.) and will feature contributions by artists and theoreticians to expand upon the overlapping contexts of the region, islands, monuments and the Anthropocene.

The goal of Monument to Habitat Compensation Island is to bring together an international network of creative practitioners and thinkers to focus on Habitat Compensation Island as a catalyst to address the tensions inherent in the convergence of culture, commerce, and environmental reparations in the great acceleration of climate change.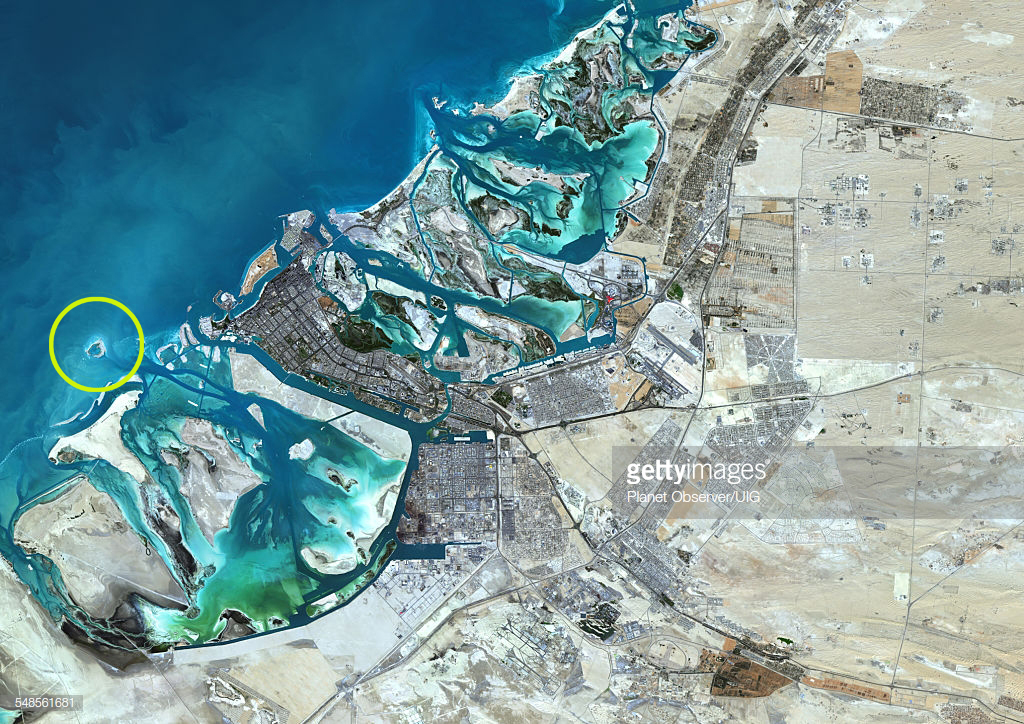 Abi Dhabi coastline, with Habitat Island circled at left

The United Arab Emirates is situated on the Saudi Arabian peninsula which forms the Arabian Gulf, a region comprised of islands and dunes, oil and oases. Abu Dhabi is the capital of the seven emirates. It is a spatially compressed region, in which mountains, cement factories, deserts, skyscrapers, and wetlands are all within a 3 hour coastal marine drive from north to south. The Arabian Gulf is home to important commercial fisheries and oil and gas reserves.


Abu Dhabi is a natural archipelago of over 200 islands of varying sizes and states: some are home to rare species of flora; some are densely developed. It is also the site of many man-made islands5 including Habitat Compensation Island. This Island lies approximately 5 miles and a 15-minute speed boat ride from Emirates Palace Marina and lies between Umm ad Dalkh—an offshore oil field, and the edge of Mussafah Industrial Area shipping channel, in the Arabian Gulf.




Habitat Compensation Island was created between 2009-2011 from marine dredge (also known as dredge spoils). Initiated by Abu Dhabi's Department of Urban Planning and Municipalities (DPM), and realized by the National Marine Dredging
Company (NMDC), the island was intended to provide some ecological compensation for damage done by channel dredging. The island's location was chosen specifically to minimize further environmental disturbance.
350,000 Mangroves were planted on the inside of the "C" shape—designed as a shallow lagoon and intended to provide a new habitat for marine species. There is a vision plan to transform Habitat Island into an ecological preserve and an education-focused destination. The timeline for realizing that full vision is as of yet undesignated.
An ambitious experimental project of marine engineering and environmental problem-solving, Habitat Compensation Island itself is a monument to ecological optimism. Yet, cargo ship workers might wonder in passing about the tiny C-shaped island with its bleached, blank billboards.
The channel is 63.5 km long and 200 m wide, with a depth of 9 m. The project entailed dredging 65,000,000 m³ of soil, using the latest cutting and suction dredger technology.
One area of beneficial re-use of the dredged material was the design and creation of a new 'Habitat' island.
This island was constructed using 7,000,000 m³ of surplus material.
It was shaped to create an ideal habitat for mangroves, fish, insects and birds.
This was the first project of its kind in Abu Dhabi and set a benchmark for future marine projects.
The island is designed in such a way that it will shape itself naturally over time.
(Source: NMDC)
SITE SCOPE

Dredging: 65,000,000 m³ of dense sand of which 7,000,000 m³ is placed in the habitat
compensation island.
Breakwater: 10,000 m³ of core material and armour.
Navigational Aids: 84 buoys complete with anchor chains and blocks with focal planes ranging from 1.9 m to a fairway marker buoy with a focal plane of 4.1 m.
Services Diversions: diversion of 3 water lines 2 km long, a marine telephone cable and two power cables diverted using directional drilling/pipe jacking methods.
Mangrove Planting: approximately 350,000 mangrove seedlings covering an area of around 60,000 m²
Erosion on the southwest arm of the island between island structure and breakwater
Deposits of plastic waste ranging type from gas cans to milk crates, water bottles, etc.
Several provisional structures and one jet ski indicating leisure activities
One standing billboard
One downed billboard
Uneven coastline and sea bottom indicating turbulence and sand movement
Mangroves present on protected interior of the "C" shape
Scant observable wildlife
Monument to Habitat Compensation Island is a curatorial initiative by Nancy Nowacek and Marina Zurkow, supported through a research grant from New York University Abu Dhabi.


BIOS

Media and participatory practice artist Marina Zurkow connects people to entrenched nature-culture tensions and environmental messes, offering humor and new ways of knowing, connecting, and feeling. Most recently, she collaborated with UCLA's Laboratory for Environmental Narrative Strategies (LENS) and chefs Hank and Bean on Making the Best of It: Nimble Foods for Climate Chaos, a series of tasting events using regional species indicative of anthropogenic environmental change. Zurkow has been granted awards from the John Simon Guggenheim Memorial Fellowship, New York Foundation for the Arts, New York State Council for the Arts, the Rockefeller Foundation, and Creative Capital. Her work has been exhibited at Storm King Art Center (New York), Chronos Art Center (Shanghai), the Smithsonian Museum of American Art, and Sundance New Frontiers, among other sites. She is on faculty at New York University, and is represented by bitforms gallery. She would rather be in the ocean than on Mars.
o-matic.com

Nancy Nowacek is an interdisciplinary artist focused on the exchange between the body, the designed world, the cultural values that inform them and their impacts. She creates participatory platforms, images, and objects that invite movement and other forms of physical engagement that bring the world into the body to engender a sense of belonging, solidity, and agency in an increasingly uncertain world. Her current research topics—islands, ageism, plastics—engage questions of time, value, reuse and discard. She recently created M______, a menopause Pop-Up Gift Shop to create space, education and community for women around health and aging, funded by the Brooklyn Arts Council. She has received residencies and fellowships from Eyebeam, the Marie Walsh Sharpe Studio Program and the Lower Manhattan Cultural Council. Her work has been shown in Canada, the Bay Area, New York City, and South America. She is on the faculty of the Stevens Institute of Technology in Hoboken, NJ. She prefers laughter.
nancynowacek.com